Hakkebakkeskogen in Berlin – the story by Thorbjørn Egners is not only a classic children's book but also a model for the design of the bilingual daycare Hucky-Bucky. The animals from the forest of Hakkebakkeskogen are good friends, a sworn community. A miniature society that not only experiences adventures together, but also organizes itself on the basis of rules it has worked out itself. Peace, safety and respect are the prerequisites so that "the big ones can help the little ones and the little ones can also help the big ones". The story of the Norwegian Thorbjørn Egners, from 1953, reflects in its statement the pedagogical attitude of the sponsor and is the starting point for the design.
Client — Nordische Bildungswerkstatt UG
Size — 200 sqm for 25 children
Services — LPH 1-8, interior design, outdoor space, funding application
Completion — 11/2019
Location — Berlin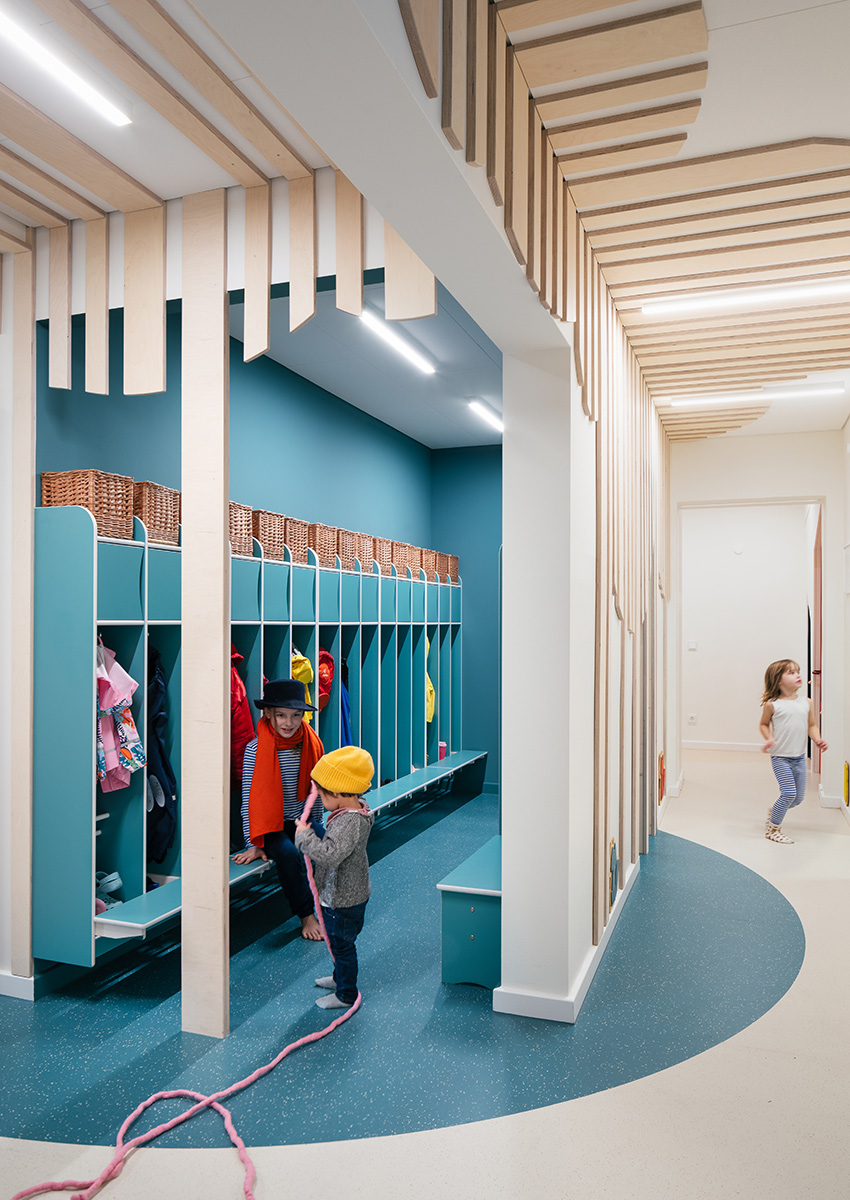 The cave-like character of the checkroom is reinforced by the monochrome color scheme and creates a protected space in which the transition from home to everyday life at the daycare center is easier and the children are welcomed with a sense of security. The walls in the hallway are play objects: The animals from Hakkebakkeskogen can be freely placed on the magnetic wall surface. The protagonists of the story, Marten, Bamsefar and Klatremus, populate the daycare center as magnetic animals milled from wood and oiled in color.
In the second group room, a climbing platform with a hammock extends the space and allows the children to climb the treetops. Climbing holds below the plateau create additional space for movement. The children are allowed to let off steam and can adopt different perspectives in the room. All the wood used is color-oiled and thus retains its natural character.
A central place in the children's story is the forest hut, which has been renamed the workshop hut in the daycare center. An additional door, adapted to the children's scale, visualizes the small forest hut on the one hand and conveys an important message of appreciation and respect to the children on the other. The kitchen in one of the group rooms was also adapted to the children's ergonomics – fully equipped with oven and dishwasher, for independent use.
The group rooms are themed around the forest lake with intricately crafted inlays in the shape of water lilies in the rubber floor. A mattress platform with integrated ball pool and slide combines an activity area with a rest zone and can be used by the children in a variety of ways.
In the bathroom, the flooring merges with the wall design. Rubber replaces the tile backsplash here. Wrapping units and shelves made of oiled wood, rubber as flooring and wall covering, and even the mirror take up the design concept's language of form.